Dead Bacteria Vaccines
Dead Virus Vaccines
Live Virus Vaccines
The Real Epidemic
Diphtheria Toxin
Old DPT VS DtaP
Universal Doses
Power of Super Viruses
Dr Ehrlich's Phenomenon
Adverse Reactions to DtaP
Attenuation Explained
Power of Super Viruses
Formaldehyde Explained
Virus Seed Cultures
Killing Viruses
Swine Flu
HPV & Aluminum
Mercury Kills
Principle of Allergic Reaction
Our Circular Skin
HIB, the Helper Bacteria
View of Neurons
Myelin Insulation
Why Japanese are Brighter
Gestational Prematurity
Thoughts are Electric
Autistic Boys
Theta Waves
Inhibitory Intraneurons
Tracking Vaccinations for my Son

FOOTAGE:
Video: Mercury Destroying Neuron

TV LECTURES :
Video: Talk on Protection


_________________________
DEDICATED to my beloved
genius brother,
Dr Ronald Conrad Jones,
PHD in Toxicology
and Cancer Researcher.
He taught me about cancer
and human physiology
in a very visual and humorous way,
from the time I was 8 yrs old
(he was 12 yrs older)
and infused in me an understanding
how the body works
at the Microscopic Level!
May I find his son Nick
and daughter Stephanie some day!

ELECTRICITY = Thought (brain wattage)



Thought and movement come
from electrical current
rushing through neurons
like wires, moving fast as lightning!



Brain Cell Diagram



Human babies are born without Myelin,
and it takes 24 mos for myelin cells to wrap around neurons a dozen times.
Neurons wrapped in myelin after 2 years of growth, diagram below,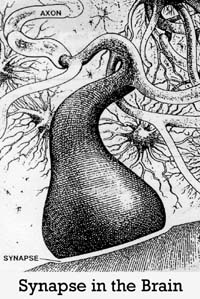 All dendrites and axons are wrapped in myelin, allowing electrical current to flow, sent via chemicals across junctures between neurons. This is the flow of thought.



Neurons can have numerous dendrites for input (many hear), but a neuron has only one axon (singular voice).


The axon is the VOICE of the cell.


When the Dendrites and Axon of a cell are destroyed, Dendrites can grow back, but NOT the Axon.



_____________________
HOW POLIO IS MADE
(SEE how Polio is made



Cooks in the Kitchen




(sequence is scanned from
"World Book Encyclopedia," 1959)



Monkey kidneys are mixed in a blender with Polio viruses added. They multiply, and that's the vaccine. They suck this up into the syringes and that's it.
How the AIDS epidemic got started
In the mid 1950's they had no refrigeration on airplanes and made the Polio Vaccine in the heart of Africa using the local Vervet Monkeys. But these monkeys were the survivors of their own AIDS epidemic and ALL of them carry the genes of tolerance to live symbiotically with the virus (the virus only needs a few perfect hosts), and they became CARRIERS, all of them. So, when their blood was directly injected into a population, albeit with good intentions with hidden consequences, which is the dark side of manipulating diseases to be turned into "safe" vaccines.
Aluminum is usually added to all vaccines for suspension material in the syringe, but sometimes Salt/saline solution is used.



__________________
Damaging Bacterial Vaccines


Researchers can tell the exact month inwhich neuronal damage was done. On slides they can see the exact stage of neuronal development that was cut off by neuronal destruction. Some saw that the tips of budding dendrites were seared. Necrotic burning of dendrite tips would be caused by the Diphtheria toxins in the DPT/DTaP shots, HIB shots, any of the DEAD BACTERIAL vaccines.
The Dead Viral Vaccines kill brain cells slowly, because they contain Mercury which destroy the entire branch down the the neuron body and then beyond, nothing stopping them until excreted from the body. Half the germ material in a syringe is MERCURY, examples are in the Hep-B shot, IPV shot, Flu shots.
The Living Viral Vaccines are not given for the first year because immune systems cannot fight them, so the damage seen by the researchers was caused by any of the dead bacterial vaccines.



CHINA
China hadn't turned any of their children Autistic, until 1999... when the DTaP vaccine (the one for Whooping Cough) arrived from America, and now they have millions!

JAPAN
Japan had their first Autistic children appear when vaccines arrived from America after WWII. And, they immediately figured out it came from the DPT shot, and from then on, everyone waited 2 years before vaccinating. Problems can still occur up to 3 years, so they made their vaccination program Voluntary! A vaccinated older population protects the younger population, and not the other way around, like they practice in America.



__________________________

HOW vaccines are made,
how they work, and how they cause Autism

BUY Booklet Only $ 3
48 pages with illustrations, diagrams!


'Tracking Vaccinations'
by vaccine researcher Allison Jones


To avoid Autism wait at least 2-3 YEARS
before vaccinating! (myelin takes 24 mos)
Strengthen immune systems,
let them mature first,
and let brain neurons make connections, first!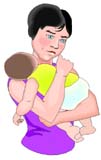 Do you know what's in a shot?
Find out!


<top


How vaccines are Made, How they Work,
& How they cause Autism...


Some Main Points: 1. Children's vaccines are Universal Doses, for ages 0-6 yrs, geared for the weight of the oldest (50 lbs).
2. Children's vaccines are made stronger than adults' to force their weaker immune systems to respond.
3. Smallpox is the only virus with a relatively benign relative, Cowpox, that could be used in its stead.
4. All viral seed cultures are grown in 'HeLa' cells, alive since '51, most aggressive cancer cells on earth.
5. The live virus vaccines are no longer attenuated, today their genes are altered thru genetic engineering.
6. Mercury makes the dead viral vaccines work.
8. By 18 months, a toddler has received more than: 12 doses of diphtheria toxin (dtaP, HIB, PCV),
4 doses of tetanus toxin (dtaP), 11 doses of mercury (Hep-B, IPV, Flu),
13 living viruses (MMR, Rotavirus, Varicella), plus, endless doses of aluminum.
9. Varicella (chicken pox shot) is a gE Herpes virus that inserts its genes into the human genome, forever.
10. Myelin insulation protecting the nervous system and neurons isn't complete until 24 months.
11. Hypo-perfusion occurs in the limbic system cuz cells were destroyed there, so less oxygen is needed.
12. HIB is a bacteria that helps the immune system.
13. HPV is Planter's wart, an opportunistic virus that moves into cancer cells that were already there.




...the question is not IF vaccines cause autism,
it's HOW!



The 3 Main Kinds of Vaccines:
1) Dead Bacteria (tetanus & diphtheria toxins), see DB details
2) Dead Virus (mercury or aluminum to lodge virus), see DV details
3) Living Virus (genetically engineered super-strains) see LV details



The toxoids, mercury, & living viruses
in the 3 different kinds of vaccines
can all achieve the same levels of destruction
in 3 different ways...





_____________
1) Dead Bacteria Vaccines: Diphtheria & Tetanus Toxins
The immune system will ignore something dead (not a threat), so vaccines use the dead bacteria's outer membrane (polysaccharides) for its protein markers and manufacturers add the Minimum Lethal Dose of the deadliest bacterial toxins known to man, Diphtheria (3rd deadliest, strips myelin) or Tetanus (2nd deadliest, blocks signals). Botulism (botox) is number one. The MLD of these toxins are added, because babies have rather immature immune systems, so their vaccines are up to 10x more toxic than those for adults. And parents have to wait months for these poisons to wear off.
What keeps the recipient from dying is the addition of Anti-toxin early on in production (antitoxins are just its antibodies). The mistake is when manufacturers don't measure how much toxin has been produced by each colony, so how much anti-toxin to add is unknown (with a possible 900% range between barrels), yet, shockingly, only an average amount of anti-toxin is added to each and every batch. That means some batches get more anti-toxin than they need, while some don't get enough and that's the biggest problem.
Lf (Limes flocculation) expresses how much toxin has been bound to anti-toxin, but does not express how much toxin is without anti-toxin! The use of formaldehyde serves as a time-release mechanism, creating a web over toxins (cross-links them). As it dissipates over time, it releases toxin, which keeps the vaccine "working".
Bacteria have envelopes, called polysaccharides, with markers that identify them, that are used for vaccines. Since, the bacteria is dead and non-toxic, no immune response occurs. But, Ehrlich found that the MLD (minimum lethal dose) of a poison would create a life and death situation, creating an allergic reaction (temporary immunity) to all foreign proteins, including the target germ (polysaccharides), creating "allergies" for common food and other random visitors, like pollen!
So today, manufacturers use the MLD of the deadliest toxins (diphtheria, plus tetanus in the dtaP), to force an immature immune system to come out fighting. During the heat of battle and hyper-stimulation of the immune system, any foreign protein consumed will be fought too. Every foreign protein is attacked and registered as an enemy: pollen (seed), dander (bugs), dairy (casein), nuts (seed), dust (bugs), and the target germ, by default. That's the whole point, to create an allergic reaction to benign Pertussis (dtaP) or HIB or PCV, by default.
Diphtheria toxin strips vital myelin insulation and Tetanus destroys neurons, causing high-pitched wailing from brains on fire. Aluminum is the suspension material for the small amount of germ substance in the syringe, insuring that none is left behind.
Examples:
DTaP = diphtheria, tetanus, pertussis (whooping cough)
HIB = A resident helper bacteria
PCV = Pneumonoccal Conjuvate Vaccine

see The History of Autism
see Diphtheria Toxin
see Ehrlich's Phenomenon
see Common Adverse Reactions dtaP
see The Principle of Allergic Reaction
see HIB, the Helper Bacteria

_____________
2) Dead Virus Vaccines: Mercury & Aluminum
Viruses are basically just DNA packages with a shell and delivery system. Dead virus vaccines used to be made by tossing the DNA and using the Ďshellsí of the virus, but today viruses are filtered and recombined into VLPs (Virus-Like Particles). These shells and VLPs are full of identification markers (proteins), and they bond to molecules of mercury or aluminum. Both these metals will lodge these fragments into body tissue, so the immune system can attack them and will, over and over again, until exhausted. This is how the vaccine keeps working.
Because aluminum ends up in the liver, itís handy to use in the Hepatitis-A vaccines, while the Hepatitis-B vaccines use mercury. Organs of excretion, like the liver, get clogged with the usual aluminum suspension material that fills syringes, and the other metals and garbage in the vaccines. Newborns are so pure that they clean out metals and toxins fast, and hence they are given booster until clogged, so the dead vaccines will keep working (dead bacteria use formaldehyde or aluminum too), hence babies are given boosters, only 8 weeks apart, repeatedly, until their livers are clogged, and then the next booster can be given 6 months later, then, a year later.
The virus shell or VLP won't go away and can't be killed, so the immune system doesn't stop attacking it, and becomes exhausted, allowing dormant or outside germs to take over. This has been well documented in veterinary studies, but taboo to observe in people.
See footage explaining how mercury destroys brain cells (neurons) by the University of Calgary in Canada: "How mercury causes brain neuron damage"
The Hepatitis-B virus spreads like AIDS, through blood exchange, yet itís given to every newborn in America. Obviously itís unnecessary, since babies arenít going to have sex nor share needles, and this shot is loaded with mercury, and being that people are born with 4x the number of brain neurons they end up with as adults, it goes to work right away leveling that inequality. By the time a parent notices their child has suffered loss, itís huge!
To get an idea of how much mercury and aluminum is in someone, get his hair tested through a Naturopath. Vaccinated children will register off the charts, because they receive dozens of doses of mercury and aluminum, and no one escapes their effects. Mercury annihilates budding dendrites and neurons, first destroying those containing short-term and then, long-term memories. Molecules of mercury do not stop circulating and destroying, until excreted.
Aluminum is used to fill the syringe as a suspension material, so that target germ material wonít be left behind in the tip, but combining mercury and aluminum causes ĎSynergistic Toxicityí which increase their individual toxicity 100 times, bringing lethality up from 1% to 100%. Most flu shots contain mercury and aluminum, causing dementia in the elderly, because it takes on average 3 years to clean mercury out in adults.
Examples:
Hep-A = Hepatitis-A,
Hep-B = Hepatitis-B is given at birth,
IPV = Injectable Polio Virus, for 3 kinds of polio,
Flu shot = given every year.

see HPV Aluminum
see Footage of Mercury destroying Neuron

_____________
3) Live Virus Vaccines: Genetically Engineered
Manufacturers are able to inject live viruses into people because they've been "Attenuated". Since viruses merge their own genes with their host's genes, their virulence can be altered towards a different species other than the recipient, a human in this case. But, manufacturers need a constant colony of cells to host the viruses to keep growing them, and like to use cells that clone themselves, especially cancer cells such as the HeLa cell-line for starter virus cultures, and fetal cells for the next stage. Measles, for example, is grown in chicken eggs, which are their fetuses. Polio is grown in fetal monkey kidneys. But the new vaccines are not attenuated any more, today they are genetically engineered and have had their genes are altered, edited, and deleted. For example, Varicella virus for chicken pox and rotavirus from antibiotic overuse are grown in human fetal cells, which is not the definition of attenuation.
With GMO knowledge, viruses are the vectors used to inject edited DNA to "Modify the Organism", forcing consumers to eat poisons that would normally kill plants. The genes of viruses are modified to be more powerful than their natural predecessors, and genes are deleted that cause some symptoms. A victim can be infected and not know it. We are entering sci-fi territory and we must mark our steps well or modern man will keep adjusting to the mal-adjustment, he will know longer know what is normal for a human being, as cells containing instincts are wiped out across the board.
&bnsp; The polio and smallpox vaccines were successful in their campaigns because they were different from all the other vaccines so far. Both of these problematic viruses had relatively safe solutions: The polio vaccine was attenuated and it was a drink, far safer than injection and more logical addressing the entry point for germs, and the smallpox vaccine used a benign sibling (cowpox). Neither of these situations exist for anything else. And in the case of Rotavirus which is a drink, it's genetically engineered and grown in fetal human lung cells and is a "human-bovine re-assortment".
The seed cultures for all virus vaccines are grown in HeLa cells, the most aggressive cancer cells on earth. This is not a problem with the dead ones, but the live ones merge their genes with their hostís genes, which is how the practice of attenuation is successful to begin with. Seed cultures are then sent to manufacturers where they are attenuated (MMR, polio) or genetically engineered (varicella, rotavirus) into various products. Viruses live to make copies of themselves by inserting their genes into cell genes to control of dismantle them. When the viral genes are altered, either naturally through attenuation or artificially through genetic engineering, then their altered genes are inserted into the genome of any plant (GMO) or animal (gE).
Examples:
MMR = measles, mumps, rubella are bred for power,
Varicella = chicken pox, but it's a new gE herpes virus!
Flu = live swine flu nasal spray, sure way to get a live virus into the brain!

see Virus Seed Cultures
see Measuring SUper-Strain Power
see Swine Flu Spray



Autism is damage to the limbic system during development,
cells gone via 3 different ways from the 3 kinds of vaccines,
Dead Bacteria (poisons), Dead Virus (mercury, aluminum), Live Virus (super-strains).
Limbic System is Mammal part of brain, containing millions of years of genetic wiring,
giving us instincts, such as to watch other human beings to know how to behave...
and their loss is irreversible, what those cells contained cannot be regained.



____________________________________
What Germs are Grown In


Viruses
Children get 13 live viruses, between 12-18 mos!


Chicken Pox - fetal human lung cells, fetal guinea pig cells; a live gE (genetically engineered) vaccine.
Hepatitis-A Ė grown in MRC-5 human diploid cells (fetal lung cells kept alive since 1960ís); a live gE.
Hep-B - grown in common Baker's Yeast; a dead one.
HPV - grown in the Cabbage Looper, a caterpillar; dead.
Influenza Ė multiple combined genes are grown in eggs.
Measles - chicken fetus (eggs); a live vaccine.
Polio - fetal monkey kidneys; IPV is dead, OPV is alive.
Rotavirus - grown in hybrid of human and cow genes, a "Human-Bovine Re-assortment"; a live vaccine.



Bacteria
By 18 mos, children get over 20 dead bacteria!


Diphtheria - grown in cow broth,
Tetanus - grown in casein (dairy, milk proteins),
Pertussis - grown in nutrient medium,
PCV (streptococcus) - has 23 types of Strep grown in Soy Peptone Broth.

____________________________________
The Real Epidemic
Old World Diseases, such as, Yellow Fever, Cholera, Typhoid, Tuberculosis, Influenza, Diphtheria, Tetanus, and Measles, have virtually vanished because of Modern Sanitation techniques: toilets (1847), antibody shots (1890), cars & roads to get help (1920), and of course, antibiotics for bacteria (1940); not because of vaccines! Antibody shots were developed in 1890 for Diphtheria, Tetanus, and eventually, Measles. Meanwhile, Polio and Smallpox viruses have virtually vanished because of the miracle in their vaccines. It helped that humans are the only host for them, but also, their vaccines were unique and for different reasons (the oral polio was not an injection, and smallpox had cowpox).
The Old World Diseases still around are Whooping Cough, Hep A & B, and Chicken Pox. Luckily, none have lasting effects, like paralysis, but whooping cough is the most difficult for babies, and the most desirable to avoid. Adults with chronic coughs donít know they have it. Too bad its vaccine is so potentially dangerous. It can lack antitoxin to cover the deadly levels of diphtheria and tetanus toxins used to make the vaccine work.
The new diseases targeted by vaccines: Streptococcus bacteria (from HIB loss), Neisseria bacteria (from HIB loss), Rotavirus (meat factory/poor hygiene in menís rooms), HPV virus (wart finds cancer) and HIB bacteria (mistake to vaccinate against), these are some of the New World germs targeted by vaccines, and they exist because of blind human interference and tampering.
Herd Immunity prevents a germ from spreading when 50% of a population is immunized. Apparently, babies take up that percentage. The hard part is figuring out which bullet put some young soldiers on The Spectrum, where developing brains were hit by numerous heavy metals and MLD poisons repeatedly in the first year of life, then more than a dozen living super bugs (viruses)! All of these things, depending on recipe, dosage, and age of the infant, cause loss in the limbic system of the brain.
The nature of each germ must be studied to weigh germ risk against playing Russian roulette with vaccines. Victims are random with both the toxic dead bacteria and the live virus vaccines, but everyone is affected by the aluminum and mercury used often in recipes.
The autism epidemic is new, basically unheard of until the 1980ís. When I grew up, kids were given shots for 3 things. The first odd thing about ďAutistic ChildrenĒ is there were no adults. Historically, mothers put babies to sleep on their stomachs, so they wouldnít choke on spit-up. Then, the poisoning began, and babies had trouble breathing. They kept slipping into unconsciousness, so they were put on their backs. It started with the DPT, grew with additions, boosters, and combinations. The disastrous results became commonplace, and we slipped into adjusting to maladjustment, while the subject of vaccines is hydra-headed, and spreading into sci-fi territory with all these new gE life forms being created and injected into peopleís genomes. The new epidemics come from the questionable substances inside syringes!



...everything that makes us human
is in the mammal part of our brain...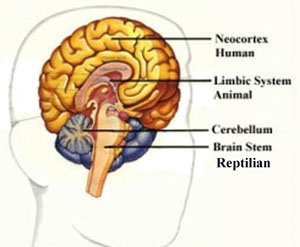 Every scientist knows there are 3 epochs in our brains:
Our brain-stem is Reptile, our Limbic System is Mammal,
only our Neo-Cortex is the Human addition,
thus, we store more information, but must remember
everything that makes us HUMAN is in the mammal part of our brain!
the neo-cortex is for memory and function, but doesn't contain
millions of years of genetic wiring for survival.



____________________________________
The History of Autism & the DPT
The DPT for whooping cough came out in the 1940's. Back then, only the wealthy could afford this vaccine, so, the first cases of autism appeared amongst them. Professionals blamed the phenomenon on the mothers, supposedly for ignoring their children and using servants. It was called 'Refridgerator Mother Syndrome'.
The extremely toxic nature of this vaccine on infants has made it the cause of more neurological damage than any other vaccine. Remember, the medical institution fought Dr Oliver Wendell Holmes in court for 60 years. He figured out that washing hands got rid of germs, but it didn't pass until 1910. Now, it's thee most logical thing! Ditto on where to look for the causes of autism - inside the great unknown inside of each syringe. Remember, this is the medical institution that still uses mercury fillings, making victims chew and swallow mercury for the rest of their lives!
The DPT/dtaP is a dead bacteria vaccine that works by using lethal doses of diphtheria & tetanus toxin to force immature immune systems into life and death battles. Either of these toxins can be lacking their anti-toxin because of production practices, making them deadly to brain neurons. Diphtheria strips myelin. Tetanus blocks signals. When parents are trying to keep their baby breathing, they're actually waiting for poison to wear off. When babies are at risk of slipping into unconsciousness, it's a sign they've been poisoned.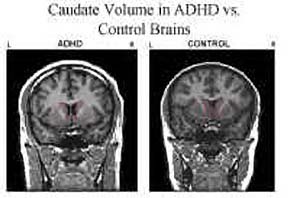 The brain on the left is Autistic, (on the right is normal),
see the collapse of the limbic system from lack of cells,
allows the walnut-like cortex above it to fall
and leaves a gap of space under the skull.
This is visual proof of loss!



____________________________________
Dr Ehrlich & the first Antibody Shot
Dr. Ehrlich was experimenting with building tolerance to poisons (diphtheria toxin) in his lab animals, because it was well known that people could build tolerances to poisons by ingesting small amounts. Ehrlich observed that when a cell was under threat that it grew "side-chains" to bind to the poison and drop away with it in tow. He saw that cells produce additional "side-chains" to circulate through the blood getting rid of such poisons before they can damage the cell. Small doses builds tolerance for a specific poison by producing side-chains that, today, we call 'Antibodies.' He figured out, antibodies would cancel the effects of toxins and called them the 'Anti-toxin'.
The regeneration of side-chains on cells can be trained, genetically imprinted, to get rid of toxins produced by the both diphtheria and tetanus bacteria. Antibodies for the toxins do not stop bacteria from growing and colonizing, they merely get rid of the poisons so one can tolerate the toxins, until the immune system can get rid of the bacteria. There are macrophages, neutrophils, and several other lines of defense before antibodies kick in. A good thing, because toxins aren't released until Tetanus bacteria starts dying, which takes about a week.
Ehrlich's work led to the first dead bacteria vaccine, the DPT, for whooping cough. They used Ehrlich's Phenomenon and the MLD of diphtheria and tetanus toxins for benign pertussis, since there was antitoxin (the antibodies) to keep them from killing the recipient. The antibodies were originally grown in horses, because most humans can share their blood.

____________________________________
Common Adverse Events from the DtaP
Manufacturer's notes on common adverse events (bad reactions) from their DtaP shot. (The persistent, inconsolable, or high-pitched crying reveals their agony, because poisons burn).


Right after:


EEG disturbances with encephalopathy,
Serious and acute neurological disorders,
Encephalopathy,
Complicated convulsions (with or without fever),
Persistent and Inconsolable Crying (lasting 3 hrs or more),
Unusual & High-pitched Crying,
Collapse (hypotonic-hyporesponsive episode),
Severe Neurological Complications.


Within 24 hours:


Fever, Drowsiness,
Fretfulness, Vomiting, Anorexia,
Persistent and Inconsolable Crying,
High-pitched and Unusual Cry,
Collapse (hypo-tonic-non-responsive episode),
Convulsions, Acute Encephalopathy,
Permanent Neurological Deficit.


Beyond 48 hours:


Autism,
Chronic Neurological Damage, SIDS,
Infantile Spasm,
Guillain-Barre Syndrome,
Learning Disabilities,
Attention-deficit Disorder,
Shock and "Unusual shock-like" state,
Anaphylaxis,
Protracted & Inconsolable Cry,
Peripheral Mononeuropathy,
Aseptic Meningitis,
Acute Encephalopathy,
Reye Syndrome.



MRI Scan of BrainLimbic System (mammal), & Cerebral Cortex (human).

____________________________________
Textbook Notes of DtaP Toxins


1) Diphtheria - "Diphtheria causes the progressive deterioration of myelin sheaths in the central and peripheral nervous system leading to degenerating motor control and loss of sensation."


"Diphtheria toxin is extraordinarily potent;
in sensitive species (e.g. humans, monkeys, rabbits)
as little as 100 to 150 ng per kg of body weight is lethal."


10 lb baby = 4.5. kg
1,000 ng = 1 mcg or ug
Lethal dose of Diphtheria = 0.1 mcg per kg

2) Tetanus - "Epilepsy is induced in lab rats by injecting them with Tetanus toxin , creating seismic activity, and their interest in new things disappears, locomotion is the same, but they explored everything less, from the familiar to novelty items."



"...their interest in new things disappears,
locomotion is the same,
but they explored everything less,
from the familiar to novelty items."



____________________________________
Old DPT vs New DtaP
The first vaccine for whooping cough (pertussis), the DPT, came out in 1943 and was made by using the 'Whole' cell of the pertussis bacteria as the vaccine. Whole dead bacteria bodies injected into babies, which is squeamish, but not as bad as the tetanus toxin added to make it work. On the "skin" of bacteria are protein markers needed to make the vaccine recipe work, which won't without adding the deadliest toxins (diphtheria and tetanus). From the start, this vaccine was a disaster for decades... as autism appeared, grew, and expanded into an endless "spectrum". So, manufacturers changed the recipe in the 1990's, another reason for the leap in autism during that time. Instead of leaving the bacteria whole, they throw it in a blender, grind it up, and rinse it out, much like de-caffeinating coffee. This is why they call it "A-cellular Pertussis (aP). But since toxins are the best protein markers, they add pertussis toxin back in!
As manufacturers increased the amount of pertussis toxin they also had to equally increase Diphtheria toxin, so between 1948-1990, the DPT had 6.5 Lf of diphtheria; but today, the DtaP has 25 Lf of diphtheria toxin! Adults get only 2 Lf! (Lf: p.7), and yet, a child's dtaP shot is banned for adults, specifically anyone over the age of 7.
The logic is that childrens' immune systems are so immature that the vaccines have to be made stronger than those for adults. But they are made too strong for babies, obvious by the plethura of neurological and immunological damage occuring during development.

____________________________________
Universal Doses
Children's vaccines are made for ages 0-6 years, yet are One-Size-Fits-All..!!
Everyone knows dosage per weight is crucial, yet children are given 'Universal Doses' geared for the weight of the oldest, the 6 yr olds, estimated at 50 lb.
The smallest amounts of tetanus are deadly to a 10 lb baby (4.5 kg).



Lethal Doses


1,000 ng = 1 ug/mcg
#1 - Lethal dose of Botulism: 1.0 ng per kg
#2 - Lethal dose of Tetanus: 2.5 ng per kg
#3 - Lethal dose of Diphtheria: 0.1 mcg per kg

Comparing Adult & Child DtaP Shots


DTaP = brand 'Adacel' (11 yrs - 65 yrs), for adult.


Diphtheria toxin - 2 Lf
Tetanus toxin - 5 Lf
Pertussis toxin (PT) - 2.5 mcg


DtaP = 'Pediarix' (6 wks - 6 yrs), for child.


Diphtheria toxin - 25 Lf
Tetanus toxin - 10 Lf
Pertussis toxin (PT) - 25 mcg



Making Polio Vaccine means putting in blenders
monkey kidneys & viruses, so they can multiple.
for the live virus vaccines.


_____________
Attenuating Viruses
Attenuation means altering the genes of a virus by growing them in the fetal cells of another species. The first viral vaccines attenuated were:
Measles - first grown in chicken eggs (fetus)
Polio - grown in fetal monkey kidneys, VERO since '62
Today, viruses are grown in fetal human cells, which is not attenuation, it has to a species other than the recipient! Chicken Pox is grown in Fetal Human Lung Cells and Guinea Pig cells, and genetically altered to disguise some symptoms, making it more virulent than "natural" chicken pox. The new powers of these viruses are measured by how many more cells they can invade.

____________________________________



What Viruses are Grown In


Children get 13 live viruses, between 12-18 mos!

Chicken Pox - fetal human lung cells, fetal guinea pig cells; live gE. Hepatitis-A Ė grown in MRC-5 human diploid cells (fetal lung cells kept alive since 1960ís); live gE.
Hep-B - grown in common Baker's Yeast; a dead one. HPV- grown in the Cabbage Looper, a caterpillar; dead.
Influenza Ė multiple combined genes are grown in eggs; dead or live.
Measles - chicken fetus (eggs); a live vaccine.
Polio - fetal monkey kidneys; IPV is dead, OPV is alive.
Rotavirus - grown in hybrid of human and cow genes, a "Human-Bovine Re-assortment"; a live vaccine.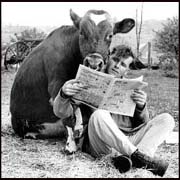 The Rotavirus in the vaccines are a Bovine-Reassortment,
the genes of cow & human combined,
and these CCID* super-strains inject their genes into the human genome...
*Cell-Culture-Infectious-Dose"



____________________________________
Measuring the Power of Super-Viruses
MMR Ė The power of the measles virus to invade cells is measured by TCID (Tissue Culture Infectious Dose). TCID 50 means 50% of the cells in the tissue-culture inside a petri-dish have been invaded. These are bred to be super-strains, able to invade more cells than natural predecessors.
Brands:
MMRII = 1,000 TCID 50 of Measles
Proquad = 3.00 log 10 TCID 50 of Measles
(3.00 log to 10th power = number of TCID in 50% of target tissue examined).

Varicella - The power of chicken pox virus is measured by PFU "Plaque Forming Units", in which the number of plaques in a sample are counted. Viruses will leave a hole where they enter and the cell patches it up with plaque, not realizing it's already inside. The more plaques, the more cells invaded. These are genetically engineered to be super-strains, because they are not attenuated and instead grown in human cells, and cells made up of the genes of various animals.
* PFU = "Plaque-Forming Units" (or, one infectious virus particle) is a measure of the quantity of individual infectious particles based on the number of plaques formed per unit volume. Since a virus particle failing to infect a host cell will not be able to produce a plaque, hence, it will not be counted. One PFU means one lytic** event or one virus infectious particle. (**Lytic means destruction of host cell, the outcome)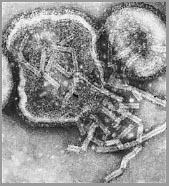 Measles Virus pouring out of a Host Cell



____________________________________
Formaldehyde for Bacteria
This is their only claim to the safety of the dead bacterial vaccines. Formaldehyde keeps the power of the tetanus and diphtheria toxins from outright killing the recipient, (depending on dosage per weight), by cross-linking the toxins, creating a web to dissipate slowly over time, as the formaldehyde slowly dissipates. That's why it works so good for embalming, webbing proteins and blocking decomposition. This is why the tetanus and diphtheria components last up to three times longer than other vaccine. Thus, formaldehyde is a chemical that doesn't reduce the power of the toxins, it's just a time-release mechanism from sticking in the body so well. One dose of diphtheria lasts ten years, but it's given repeatedly in most dead bacteria vaccines.

____________________________________


Virus Seed Cultures for Vaccines


The individual manufacturers of vaccines buy 'seed cultures' of viruses to make their various products from suppliers. The starter viruses they buy are grown inside the cancer cells of Henrietta Lacks (HeLa cells). It was a sheer phenomenon that her cancer cells didn't die when she did in 1951, and have since proven to be the most aggressive cancer cells on earth. This makes them perfect for growing viruses in a continuous cell line. The problem is the fusion of virus and host genes, being the science behind attenuation to begin with... because living viruses will insert their genes into the human genome.
HeLa cells are grown nutrient mediums, and they cover spherical "micro-carrier beads". As these cancer cells keep cloning themselves, they provide a constant supply of cells for the viruses to dismantle and build their own genes within a body casing. It's a hassle for manufacturers to start new colonies of viruses, so they like to grow them in continuous cell lines that clone themselves readily, thus, the seed cultures are grown in cancer cells, while manufacturers grow viruses in fetal cells (measles in chicken fetuses/eggs and polio in fetal monkey kidneys). Animal cells can only make a limited number of copies of themselves, unless embryonic.
Meanwhile, back at the manufacturers' plant, HeLa cells must be fed nutrients at intervals and that's when ubiquitous Mycoplasma, an ancient bacteria, get inside the vats. They are extremely tiny, can evade filters, and are not desirable to be injected into the body.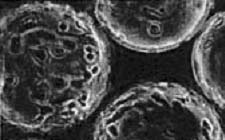 Micro-Carrier Beads are covered by cells that clone themselves
so that viruses have a constant, accessible supply of Host Cells



____________________________________


To Kill Viruses for the Dead Vaccines


Viruses gene packages with a delivery system. Manufacturers of the dead virus vaccines toss its DNA and use only its "shell" (capsid), they do this because the immune system will think a shell fragment is a whole virus and very much alive, and attacks it, over and over again. A specific amount of virus shell will bond to mercury or aluminum, and lodge in the body until excreted.
Another way of 'killing' the virus is through just mashing up the virus, filtering it, and re-aseembling its fragments into Virus-Like Particles (VLPs). For example, the HPV virus is grown for Cervarix vaccine inside a caterpillar (cabbage looper), itís then filtered and bonded to aluminum (lethal dose of aluminum), which is how Cervarix contains viral genes (< 40 ng viral protein), because the DNA of the virus is still in it.

____________________________________


The Swine Flu Spray


Swine Flu Nasal Spray (monovalent california 7/09) is a living viral vaccine that's only working when you get sick, you're supposed to be infected!


Quote from FDA.gov:
"The most common side effects seen with administration of the nasal vaccine include runny nose or nasal congestion in recipients of all ages, fever more than 100 degrees F in children two to six years of age, and sore throat in adults."


The difference between injecting viruses and spraying them up the nose is huge! The only access to the brain is the cribriform plate up the nose, where in our early evolution, our reptilian brain grew to figure out what it was smelling, and the nerves of the olfactory bulb come through holes in the skull down into the nose. When we get sick and can't smell anything, that mucus covering is to prevent microbes from getting into the brain. It's better to leave this mucus plug than clear it, to keep live viral super-strains from swimming into the brain.
The living virus vaccines are designed to thaw out from body heat and reanimate. Once taken from the freezer, they must wait 30 minutes to inject, so they're not too cold for the body to handle and are still viable, because the window of time is very small, a mere hour, before viruses die without host cells.

____________________________________


HPV, Aluminum Overdose


HPV (Human Papilloma Virus) is the same virus that causes Planter's Wart. This gets into a cut in the foot, but does not cause cancer. It makes a colony, but doesn't spread. Likewise, if a boy puts this virus inside a girl, it doesn't cause cancer, but it does move into cancer cells already there! The reproductive organs are favorite locations for cells turned cancerous that are looking for the right spot! Any virus would take advantage of cloning cells. HPV is merely an 'Opportunistic Virus'.
The HPV vaccine is a dead virus vaccine, so most of the germ material is Mercury with virus shell attached, while the rest of the syringe contains aluminum. The combination of these two metals will cause synergistic toxicity, causing 100% death rate in lab animals (p.36). No one escapes brain neuron damage from mercury. The HPV is given three times only three weeks apart, and organs of excretion are so clogged that each shot is more toxic than the previous.
Mercury will continue to circulate throughout the body until excreted, and is designed to last several years, destroying every budding dendrite it touches. Meanwhile, the amount of aluminum (225 mcg per dose, multiple times lethal limit) recieved in this series is astonishing, so it's no wonder brain stems have been shutting down from cell loss, and that so many young girls have gone into comas. Mercury keeps destroying 'brain cells' in the same progression as alcohol - down the brainstem until impairment. "In-Toxic-cation" describes toxins secreted from bacteria decomposing something.

top
____________________________________
Mercury annihilates dendrites & brain neurons (used to make dead virus vaccines)
Mercury is deadly, quick and unstoppable, until excreted from the body, which needs the liver to excrete.
Aluminum is used to lodge virus particles and new VLP (Virus-like Proteins), created by mashing together the shredded virus.
Aluminum is also used as the suspension material within the syringe and this will cause Synergistic Toxicity *(the liver gets clogged with aluminum, and thus, can't rid mercury from the brain).


____________________________________
WATCH Mercury Destroying the Budding Dendrite of a Neuron ("brain cell"),
by University of Calgary in Canada
...MUST-SEE FOOTAGE...!!!
Titled: "How Mercury Causes Brain Neuron Damage"





WATCH as Dendrite is Annihilated by molecule of mercury!
Footage includes great computer graphics showing what happened.
____________________________________
Mercury, Aluminum & Synergistic Toxicity


Aluminum for Bacteria Vaccines


Aluminum is used in bacterial vaccines for two reasons:
1) it bonds with fragments of the bacteria's cell wall (polysaccharides), ensuring they remain stored in the body up to 3 years, and get released slowly.
2) It is the suspension material for the target germ material in the syringe, which is very small, and they need something to fill the syringe so that, by dilution, not much would be left behind.
(HIB, Menactra, dtaP)


Mercury for Virus Vaccines


Mercury is used in dead viral vaccines to bond with viral shell fragments and lodge them in body tissue. After months or years, the mercury is released and circulates with the virus shell to continue generating an immune response. Also, knowing how many mercury molecules are present is a good way to calculate how much virus shell is in each unit.
(hep-B, IPV, Flu)


Synergistic Toxicity


Synergistic Toxicity is a phenomenon that occurs when enough mercury to kill 1% of a group of animals and enough aluminum to kill 1% of a group are combined, and that combination increases the Kill-Rate from 1% to 100% !

____________________________________


How the Dead Bacteria Vaccines Work


The Principle of Allergic Reaction
There's a big difference between natural disease caused by germs and artificial disease caused by the lab-modified germs in vaccines, otherwise known by researchers as, "Designer Diseases". With natural germ exposure, most acquire immunity, but with designer diseases (vaccines) immunity is temporary.
The Dead Bacterial vaccines are not a threat, and hence, ignored by the immune system, so they are made to work by creating an "allergic reaction" to the proteins of the target germ. Childrensí vaccines are one-size-fits-all, geared for the weight of the 6 year old, so the MLD (Minimum Lethal Dose) of the deadliest bacterial toxins known to man (diphtheria (#3) and tetanus (#2) are used to send the immune system into a state of Hyper-Stimulation and to engage in an extreme life and death battle so that in its frenzy and panic, it attacks EVERY foreign protein present. That's how food becomes perceived as an enemy and attackedÖ anything with protein in it, except animal flesh because we are animals, although auto-immune disorders are on the increase too. Hence, pollen (seed protein), dust (bug bodies), gluten, milk, and peanut butter get turned into enemies by the immune system's fight to save the recipient. You know the dtaP and HIB vaccines have worked, when a child acquires allergies to benign proteins from the food they eat, their pets and the air they breath.

____________________________________


Circular Skin for Protection


Our body is protected by circular skin, much like a donut where the center goes from mouth down the gullet and out. Our outer skin flakes off to keep microbes from taking hold, while our "interior skin", the mucus lining throughout the gastrointestinal tract, is the localized immune system powerhouse that runs from the throat all the way down to the flora in healthy intestines.
The good bacteria (flora) for the intestinal tract is seeded through mother's first milk (colostrum), before the stomach produces too much acid to allow living organisms through. Stomach acid becomes so powerful that it eats itself and we have an new stomach lining every 3 days. Pro-biotics are burned up by the stomach acid so they must be "Entera-coated" to make it through and reseed the intestinal tract. Edenfoods discovered the Japanese doing this decades ago through collecting colostrum for an entera-coated bifidus product, Bifa-15.
Antibiotics and X-rays both destroy vital good bacteria, which are needed for absorption of nutrients in our food, causing people to react differently. Some are not able to eat much, while others eat more food because they absorb less. There are only 7 levels of antibiotics with limited powers against bacteria, being that antibiotics are produced by advanced bacteria. In the beginning, in the 1940's), the first level (amoxicillin, penicillin) killed all bacteria. But today, as bacteria learn to flush out antibiotics, top tier level antibiotics are used routinely allowing even more bacteria to become resistant to them.

____________________________________


HIB, the Helper Bacteria


HIB is a natural resident and live in the upper airways of human respiratory tracts. HIB helps the immune system by alerting it to the presence of bad bacteria, which is why itís present in such great numbers at the site of so many different infections. Thatís why HIB is present when thereís Bacteremia, Pneumonia, Meningistis, Cellulitis, Osteomyelitis, Epiglottitis, and Infectious Arthritis, which are all conditions caused by any number of infectious agents. Thatís why the immune system doesnít harm its helper HIB when it comes for the attack.
For example, HIB alerts the Immune System to the presence of Streptococcus, which can cause a lung condition called Pneumonae, (also caused by: staph, pseudomonas, mycoplasma, etc), and to the presence of Neisseria, a bacteria that causes a condition in the meninges around the brain called Meningitis.
When the immune system arrives at the site of infection, it kills Strep and Neisseria, while leaving HIB alone. But, by vaccinating against HIB, there is now an explosion of Strep and Neisseria infections because of its loss helping the Immune system.
There is nothing mysterious about the explosion of deleterious bacteria within the human body, which is in a constant battle of good bacteria keeping bad at bay. We should understand bacterial populations better, especially for bacteria like HIB, which has been targeted for the wrong reasons!

TOP

____________________________________


Nerves carry electric current that cannot flow without Myelin Insulation.





MYELIN, Insulation for Neurons & Nerves


The body and thoughts are electrical, its nervous system is a bundle of wires for personal electrical current to function. And these wires need insulation, just like those for appliances need insulation or they will short-circuit. Now, in the animal world, antelope are born with it, so they can run within moments of being birth, while humans are born without it and can't walk for a year. It takes two years of insulation growth to be able to run. Protective cells must line up, side by side, along the nervous system and wrap around it. It takes 2 months for each wrap, and it wraps around a dozen times, taking 24 months to do so. At completion, children feel full current and full power for the first time. We call it "The Terrible Two's". They go wild when the current starts flowing at 200 mph! The human brain has grown so large that the walnut on top, the cerebral cortex, the library part of the brain, has grown too big to fit anymore through the old monkey bones of the pelvis.
The Japanese understood myelin insulation a long time ago, which is why most of them know to wait for their child to reach 2 years of age before giving them shots.




____________________________________
Why Japanese Students are Brighter
Following World War II, America gave Japan the gift of the DPT vaccine. The Japanese gave it to a select group of children and observed their first cases of Autism amongst them. They understood that lack of myelin insulation on the nervous system and neurons, left a baby vulnerable to developmental damage. Babies are born without any of this insulation that takes 24 months to grow. Lack of myelin insulation on their nervous system makes babies vulnerable to loss in cells that are irreplaceable in the limbic system from diphtheria and tetanus toxins turning them autistic.
By 1975 in Japan, vaccinations were given only to children over 2 years of age, and their deaths declined further, because vaccines had been causing more deaths than the diseases. The program has been voluntary, the reason Japanese students are superior.



The decline is disease before vaccines,
due to sanitation techniques, such as, toilets (1847),
antibody shots (1890), cars & roads (1920), antibiotics (1940).
Vaccines stopped Polio (oral live worked) & Smallpox (used Cowpox)
Measles vaccine is a living super-strain risk,
Whooping COugh is a MLD toxoid vaccines,
Yellow Fever, Tuberculosis, Typhoid, Cholera, Influenza
virtually vanished because of modern sanitation!
____________________________________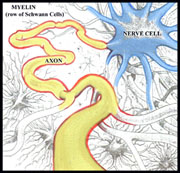 A Brain Neuron showing:
1) Multiple DENDRITES (blue) are the many Ears of the cell,
(note: If cell survives, dendrites CAN grow back).
2) The singular AXON (yellow) is the Voice!
(note: Axons DO NOT grow back)



It takes 24 months for Myelin insulation to finish growing for protection, and the insulation allows electrical current for movement, which is why the babies of humans take a year to walk. The Toxoid vaccines (dtaP) and other dead bacterial toxic vaccines, like HIB, that use diphtheria toxin can sear the tips of budding dendrites IF there is not enough anti-toxin for the diphtheria and tetanus. Dendrites are the many ears of a brain cell/neuron, and they can grow back, but the Axon, the singular voice of a neuron, can NOT grow back. What happens on the cellular level in the brain somehow manifests in the body through the loss of speech and communication channels.

____________________________________
MYELIN DIAGRAMS




'Schwann Cells'(and others) wrap around the nerve fibers, side by side,
creating insulation called, Myelin Sheath.



Myelin Sheath insulation is made up of
cells that wrap around the nerves,
they take 2 years to complete growing.


Below are sketches of Myelin Sheath...

Newborns lack Myelin (nerve insulation)



Myelin is the insulation needed to protect the nerves for current, which equals movement and thought. Without Myelin, just like electrical wires, those within us must be covered with insulation also, or they will short-circuit (and cause problems like Multiple Schlerosis)!


This is why babies don't move much, only as their insulation grows, so grows their ability to move - insulation allows electrical current - and that is why they reach full potential when they hit 2 years old: The Terrible Two's...!

Many animals in nature can get up and walk right after birth, because they have finished growing gestationally and have full Myelin Sheath insulation on their nerves, so their bodies can handle electric current for movement. Humans are born early because their
brains have grown too big, bigger than human bones are built for, and so they come through the tight passage early, "gestationally premature". Evolutionary leaps with some draw-backs!

See Gestational Prematurity



____________________________________






Schwann Cells wrap in a row along the nerves, together forming Myelin Sheath.

Myelin is the protective insulation needed, because without insulation on the wires (nerves) there can be no electrical current, which is needed for movement. That's why babies can't walk when they're born (unlike other mammals), and that's why they don't walk for a year, nor master their bodies for 2 years.

SEE Gestational Prematurity



____________________________________
Dendrites wrapped in Myelin



AXON shows the bulge of Oligodendrocytes around the Neuron's Voice,
(Schwann Cells wrap around the PNS nerves), like a sleeve of insulation, so electricity can flow through them.
Dendrites are the arms of neurons in the brain, that reach out to make connections with other neurons by sending chemical signals to each other. The tips of these get seared by toxins.






Under 24 months there is not enough Myelin,
to fully insulate and protect the nerves (and brain),
without which there is not full movement, thus, the "terible 2's."



__________________________________________________
Gestational Prematurity ....



Human babies are born early, they are born gestationally premature.
This is because, the human race developed brains that were so large.... they no longer fit through their old monkey pelvises.
&nbsp Human babies do not run when they are born, like an antelope moments after birth. They can't because they have no Myelin Sheath, thus, electrical current cannot flow through the nerves without insulation, just like in electrical wires. Thus, babies cannot move and do not have enough Myelin for an entire year, until they can walk (unlike many in the animal world, born with theirs developed)!
The Myelin Sheath completes growing at 2 years, as one can see in the full physical capability famous during the "Terrible-Two's"..... when toddlers have JUST REACHED FULL CAPACITY, finally, full electrical current (full capacity)!



Autistics suffer "seizure-streams", because they lack cells
to take up constant electrical current, which blows out more cells,
like a string of christmas tree lights...



____________________________________
Thoughts are Electrical
The body is electric, its nervous system the wires for personal electrical current to function. And these wires need insulation, just like those for appliances need insulation or they will short-circuit. Now, in the animal world, antelope are born with it, so they can run within moments of being birth, while humans are born without it and can't walk for a year. It takes two years of insulation growth to be able to run. Protective cells must line up, side by side, along the nervous system and wrap around it. It takes 2 months for each wrap, and it wraps around a dozen times, taking 24 months to do so. At completion, children feel full current and full power for the first time. We call it "The Terrible Two(_)". They go wild when the current starts flowing at 200 mph! The human brain has grown so large that the walnut on top, the cerebral cortex, the library part of the brain, has grown too big to fit anymore through the old monkey bones of the pelvis.
The Japanese understood myelin insulation a long time ago, which is why most of them know to wait for their child to reach 2 years of age before giving them shots. There's a chart below that shows the history of infant deaths and, like in America, it was plunging decades prior to any vaccines, due to widespread sanitation, municipal water, sewers, plumbing, cars, roads, clinics, hospitals, etc. There is not a rise in disease, when vaccines were suspended (due to too many deaths) in 1975, nor when reinstated at 2 years of age. Today, an accepted path is to wait 2 to 3 years, in a country where immunization is voluntary!




____________________________________
Testosterone, Seizures & Autistic Boys



Over millions of years, the most important trait in men for survival was for them to have a lot of energy. If a man had enough energy, then he could run all day and chase down enough game to feed his family, and insure the continuation of his lineage. Thus, men have been genetically wired over eons of time to run all day and play hard, because they have surges of electrical current running up their spines. Hands-on farming takes energy too, but today, society wants men who can sit all day on their hands and be pencil-pushers. Schools are not only making boys sit longer, but also psychologically destroy those who refuse to fight their own instincts!
Men have surges of testerone all the time, even beginning in the womb, and, every morning when they are babies. That's why brain cell loss in babies, from either of the two dead vaccines, will set them up for seizures. Because, as their current continues to increase up their spine, it lacks reception in the cerebral cortex when brain cells are missing and overloads the cells that are available. If cells are missing for reception, then those that are available get overloaded and blown out, like a string of christmas tree lights. Because power increases as its pathway decreases, rather than lessening, it would intensify. It's a vicious cycle of seizures, because of "brain cell" (neuron) loss leading to more seizures (and more brain cell loss).
So, it's the testosterone levels in boys that make them unable to recover from mild vaccine brain damage as well as baby girls can.

____________________________________
Theta Waves & the Bio-Electrical Brain

Study by Efremova TM, Morozov AT, Markin VP


title:
Correlation between bioelectrical processes of the cortex, thalamus, midbrain reticular formation during formation of a defensive conditioned reflex in rabbits.


A QUOTE FROM THEIR ABSTRACT:
They watched the "EEG power spectra of the sensori-motor area of the neo-cortex, the dorsal hippocampus, midbrain reticular formation and antero-ventral thalamic nucleus, as well as corresponding coherence functions and phase spectra,...their functional integration occurs on the basis of theta-rhythmn. The execution of a conditioned act requires isorhythmicity of electrical processes within the Theta-range in the studied structures, and, an adequate level of their excitability, which is manifested in the dominance of the (X Hertz*) frequency."
(Human bio-rythmns are in synch with the earth's hertz frequency).
EEG - beta wave frequency = 13 to 30 Hertz
EEG - alpha wave frequency = 8 to 13 Hertz
EEG - theta wave frequency = 4 to 7 Hertz

____________________________________
Inhibitory Intra-Neurons
The brain controls the body through duality, which is fascinating. And the brain and body works the same way. For movement and stillness, the body does a dance between impulse and breaking those impulses.

1) When you need to SIT STILL, you must put the brakes on all voluntary movement, everything but the REFLEXES that maintain an upright position.

2) When you need to MOVE, you must put the brakes on Posture-Reflexes, and release the brake on all Voluntary Movement.


The body is so perfectly balanced, that for movement
there must be non-movement!



To Move there must be brakes that work. It is obvious that even small disturbances in the chemistry-electrical fields can throw the whole system off.
The deficits tend to fall into one of two categories:
The presence of extraneous unwanted movements or an absence,
or, difficulty with intended movements.

____________________________________
Decline of Disease prior Vaccines

Graphs of diseases in Japan and America show the drastic decline in all diseases for children because of sanitation techniques that spread and worked so effectively. The first vaccine was the DPT in the 1940ís, and the next one was the MMR in 1967, since then, dozens have been added to the schedule for children. The antibody shots for Diphtheria and Tetanus had been made in the late 1800ís and they work better than vaccines in many cases, because they work 100% for being the actual antibodies. Vaccines force the body to make them, and itís well known that everyone responds differently to them, and up to half are not effective in generating sufficient antibodies. But antibody shots are what they say they are, officially called ĎImmune Globuliní shots (immunoglobulins), and GIVE the victim antibodies.
Remember, vaccines are not prophylactics in the real sense of the word, they do not prevent germs from entering the body. What they do is shorten the time that the germ is inside the body, which shortens the time it has to spread to others. Thatís all. But that is the way to stop outbreaks, slowing down a germ. What really stops the spread of germs are toilets, septic systems, and clean running water, as we all know. And the only case in which vaccines are really needed is in Third World Countries where they are surrounded by sewage and lack nutrition, that is a unique situation that calls for desperate measures. Vaccination for tetanus would be needed by every mother and child giving birth on a dirt floor in Africa, but not in first world countries.
Japan realized as sanitation practices were perfected that vaccines were killing more babies than saving them from hypothetical diseases, and they stopped all vaccinations completely in 1975, and then re-instated a voluntary program ONLY for children over 2 years of age, and as you can see in the chart below, the rate of childrenís deaths continued to decline drastically because vaccines were contributing to their deaths. Plus, the Japanese made 2 years the mark because they know thatís how long it takes to grow the insulation to protect the nervous system (CNS) of children, and their progeny have far less neurological damage and very little autism.



Japanís Drastic DECLINE In Disease before Vaccines
and after ban under 2 years of age.
Today their program is voluntary.

____________________________________
DtaP shots are "BANNED" for adults, anyone over age 6 (by manufacturer)

&nbsp below, manufacturer notes (from PDR) stating how DPT is banned for adults!
... called, 'Contra-Indictions' (NOT for use according to the maker of the vaccine!).






it says above
"...Persons 7 years of age and older
must NOT be immunized with Pertussis Vaccine."

The DPT and its newer dtaP has always been banned from adults (due to brain damage and law suits).

____________________________________
Tracking Vaccinations for my Son
During the months I lived with the Mayan indians in Guatemala, they warned me about syringes. American Medical teams would go into their villages and inject them experimentally, something they allowed until all their babies were stillborn. I learned from the Mayan how to give birth at home and avoid doctors, dodging shots until my first boys started school. It was the 1980ís and my 4 year old became paralyzed by the DPT shot. By that night he had gone into the classic tetanus arch and could only blink, swallow, and breathe for three days. Terrified, I didn't let go of him, hoping that would keep him alive. Slowly he softened up, but walked with a gimp for a month.
Thatís when I began to study vaccines, every aspect. I felt like a detective following footsteps, and began to track vaccinations down trails littered with horrors that increased every day. The people making this stuff were cooks in a kitchen playing with germs, cutting corners in production, and ultimately, making very questionable substances that are trusted blindly by adults for their babies, but not for themselves.
The only remaining dangerous Old World disease is Whooping Cough. It doesnít have lasting effects, but colonizes the throat, which makes it hard for babies. Itís very rare in first world countries, and not because kids are getting shots for it. Adults are the majority of the population and they are unvaccinated and the disease starts with them, not the other way around.
So, what paralyzed my son? The DPT stands for Diphtheria (toxin), Pertussis (whooping cough) and Tetanus (toxin). Theyíre bacteria and the target germ, pertussis, is dead and not a threat, so itís made deadly to get a rise out of the immune system by adding tetanus and diphtheria toxin, and the MLD of them (minimum lethal dose) for a 50 lb child. My son was about 40 lbs, but had he been a baby he would have stopped breathing, and called a mysterious SIDS case. The babies having trouble breathing are poisoned by diphtheria or tetanus toxin lacking antitoxin. The immune system comes out to attack the Tetanus and Diphtheria and thus, every foreign protein present, including the pertussis proteins, by default!
I had 5 children, didnít vaccinate them, and rarely brought them to doctors. I was their doctor and had an ear-scope to check for infections before getting antibiotics, and then, flora was replaced with entera-coated bifidus since stomach acids burn up probiotics.
Besides the deadly toxins, chemical, and heavy metals in the dead vaccines, the live vaccines are new life forms created through GMO/gE gene technology, bringing sci-fi nightmares into your body. Altered viruses are used to change the genes of plants and will change your genes too. Vaccines have been a massive experiment on human beings (and plants), blindly trusted despite the results pouring in of a vertical rise in neurological disorders (autism) as the number of shots, doses, and boosters increase.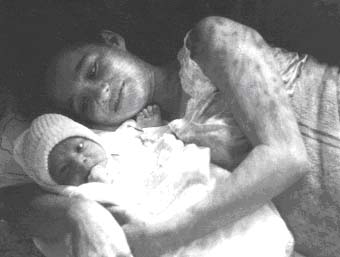 ____________________________________

TALK on our Circular SKin and the Mucus Lining for GERM PROTECTION
by author Jones on SCAN TV, Seattle.



The mucus lining is an interior skin that protects us from germs
entering inside the REAL INSIDE of our bodies!
Short, sweet & fascinating Talk!


The BOOKLET available now!
48 pgs, April 2013 edition
$3 each, FREE shipping




DONATIONS will help get my lectures going in L.A.,
Print up booklets that I give to new parents,
and Devote more time to saving the littlest soldiers...


top


email * talks * Buy Booklet

Neoteric Publications, Topanga, CA, 206-525-0783
copyright@ 2008-2013 Neoteric Publications All rights reserved.